Have you met my new friend, the mezcalita? She's fun like a margarita, but smoky, spicy and more mysterious. I got to know her this summer on a trip to Mexico City.
The mezcalitas varied from restaurant to restaurant, but they were all more orange-forward than your standard limey margarita, with spicy salted rims.
The Perfect Mix for Mezcalita
Naturally, I figured out how to make my own mezcalitas when I got back. I discovered a small mezcal selection at a nearby liquor store (right by the tequila) and purchased a mild, mixable mezcal called Vida.
I went home and flipped the proportions of citrus juice in my favorite margarita recipe, to make them taste more like orange than lime.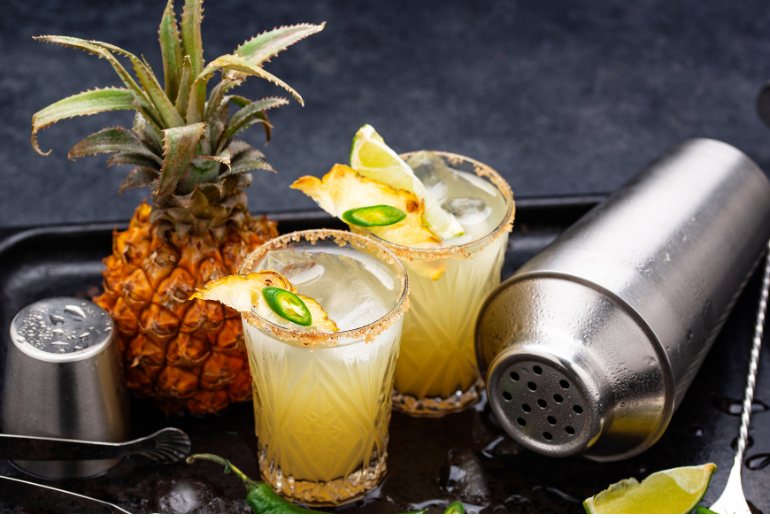 Mezcalitas aren't complete without a spicy, salty rim around the glass. I lined mine with either Tajín (a zingy Mexican salt and spice blend that you can find in the Hispanic aisle at the grocery store) or the chili powder-and-salt combination you see here.
I prefer Tajín, since the citric acid packs a sour punch, but chili powder and salt is an easy homemade option.
Up until Mexico City, I had crinkled my nose at Ali's mezcal drinks and dismissed them as "too smoky." I'm certainly no mezcal connoisseur yet, but I'm learning.
If you're interested in mezcal, this drink is a great place to start! Please let me know how you like your mezcalitas in the comments.